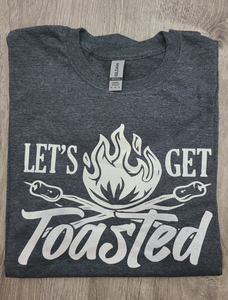 Lets Get Toasted
Lets Get Toasted screen printed graphic tee
Garment is printed using high quality 110 mesh count screens on professional screen printing rig to allow proper placement every time.
Heather Gray t-shirts using white plastisol ink, double pressed to ensure proper coverage. Garments pressed at 330 degrees Fahrenheit to allow proper adhesion for long term wear.
T-shirt is 65% Polyester / 35% cotton.
Shrinking should be minimal to none due to high polyester content.
CARE INSTRUCTIONS:
- Wash as normal
- Hang to dry or tumble dry inside out
- Don't iron directly over image, please cover with parchment paper if you need to iron.