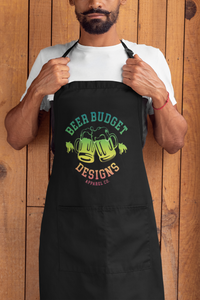 Screen Printed Apron With Pockets - PACKS
Any logo or image you could want, pricing is based on the amount of colors. Please reach out for orders outside of the quantities listed for your personal quote. 
Material: 95% polyester 5% Cotton, the uniform cloth apron gives you rugged durability and breathability.

For Most People: Unisex apron with 25" string suits different body shapes

Healthy Material: Free from harmful chemicals, safe for you & your family.

Easy Care: Machine washable, resists wrinkles and shrinkage. the apron dries quickly and the color doesn't fade.

Multi-Purpose: Come with 2 pockets in front of the apron, perfect ideal for home or business use. Well-suited for the kitchen, garden, or craft table. Perfect for the home entertainer or adventurous gourmet.